Welcome
The Australian Embassy in Vienna and Permanent Mission to the UN is accredited to Austria, Bosnia and Herzegovina, Hungary, Kosovo, Slovakia, Slovenia, and to the International Organisations in Vienna.

Australian Embassy & Permanent Mission in Vienna on Twitter
Zero Project: Australia's JobAccess Service recognised with a 2017 Innovative Policy Award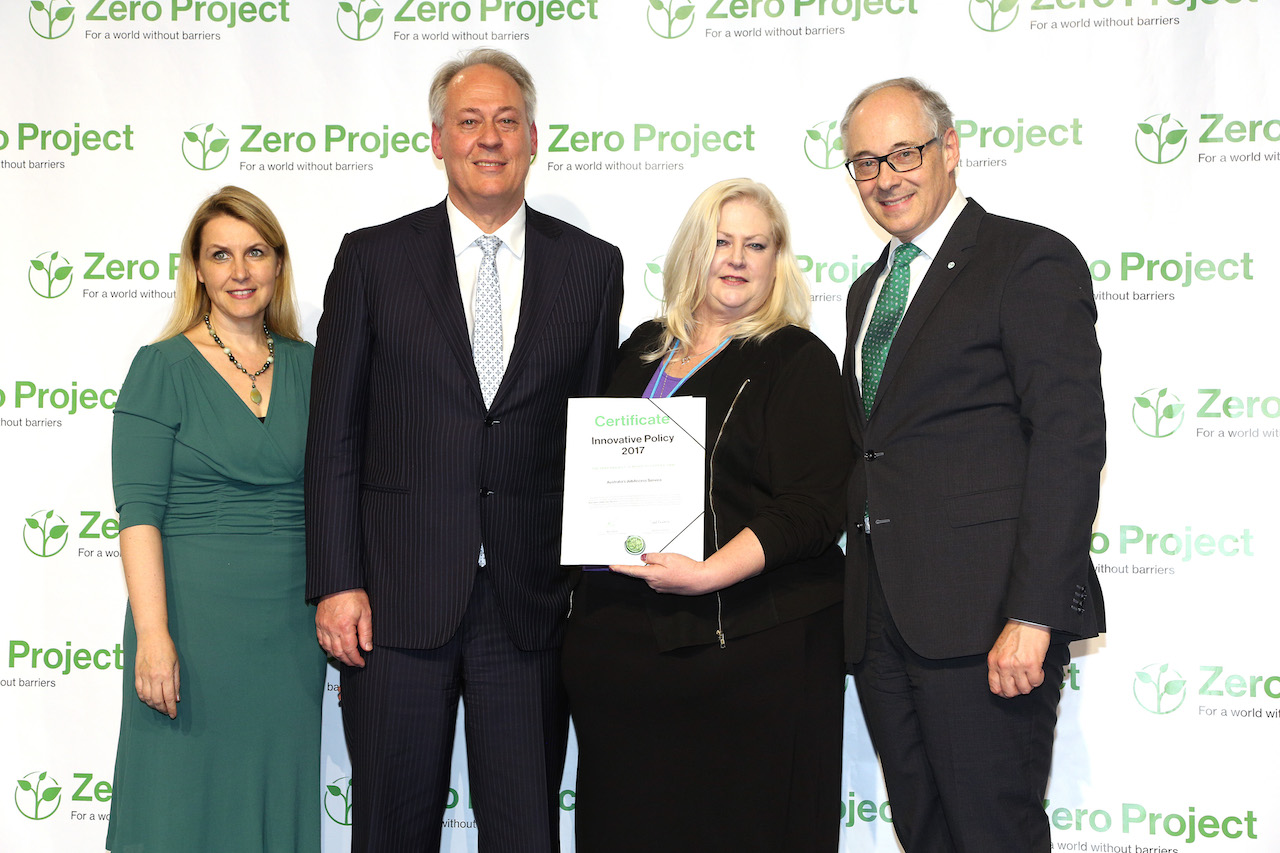 Photo caption (l-r): Ms Alexandra Wandel, Director, World Future Council; Ambassador Dr Brendon Hammer; Ms Helen Green, Disability Employment Services Branch, Australian Department of Social Services; Mr Martin Essl, Founder of the Zero Project.
On 23 February, Ambassador Dr Brendon Hammer proudly accepted an Innovative Policy award on behalf of Australia's JobAccess Service at the Zero Project Conference in Vienna. The award recognised JobAccess's contribution to advancing employment of persons with disabilities. JobAccess supports employers as well as people with disability through services including workplace adjustment, vocational training, recruitment strategies for sustainable employment, flexible workplace practices, workplace training, workplace assessment and work health and safety. JobAccess also educates employers on the benefits of employing people with disability and the government supports available.
The Zero Project is an initiative of the Austrian Essl Foundation which supports the implementation of the United Nations Convention on the Rights of Persons with Disabilities and focuses on the rights of persons with disabilities globally. It's annual conference allows organisations responsible for the development of innovative policies and practices to present solutions to peers, stakeholders, government ministers and other key influencers.
The 2017 Zero Project Conference focused on disability-inclusive employment, work, and vocational education and training. The award was handed over by Martin Essl, Founder of the Zero Project, and Jakob von Uexkull, Partner of the Zero Project and Founder of the World Future Council, in the United Nations Office in Vienna.
The Zero Project Conference was attended by more than 500 experts from more than 70 countries.
Australian Cultural Diplomacy Grants Program (ACDGP)
The Australian Cultural Diplomacy Grants Program (ACDGP) 2017 grant round is open for application, closing at 2pm AEST on 12 April 2017. The ACDGP is open to Australian residents, groups and individuals. Foreign organisations can partner with an Australian applicant who will undertake the application and administer the grant.
For further information about the ACDGP 2017 round, please see here.

Australia's statement to the OSCE Ministerial Council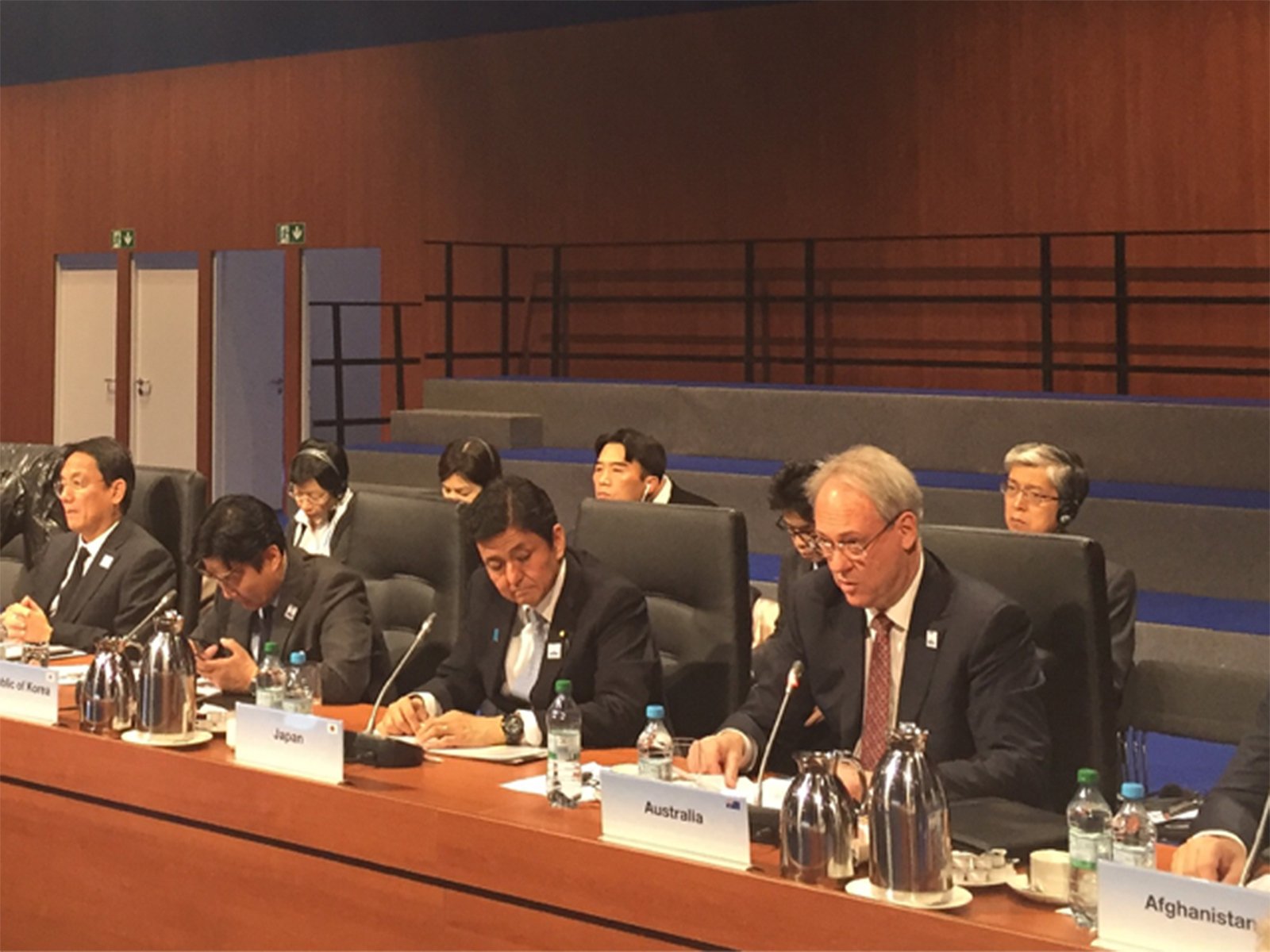 Ambassador Hammer delivering Australia's statement at the 23rd meeting of the OSCE Ministerial Council in Hamburg. Copyright: Australian Embassy.

Ambassador Dr Brendon Hammer delivered Australia's statement to the 23rd Ministerial Council of the Organization for Security and Co-operation in Europe (OSCE) in Hamburg, Germany on 9 December 2016. Ambassador Hammer conveyed Australia's disappointment that ongoing violence in eastern Ukraine remained intractable and once again called on Russia to abide by its international obligations. He stated that Australia did not recognise the illegal annexation of Crimea, and stressed the role of the OSCE Special Monitoring Mission in Ukraine in assessing the implementation of the ceasefire. Ambassador Hammer welcomed the OSCE's activities on countering terrorism and violent extremism, and highlighted Australia's participation in OSCE workshops on combatting human trafficking. Ambassador Hammer also registered Australia's candidacy for the United Nations Human Rights Council for the term 2018-20. Read the full statement here.
International Day for the Elimination of Violence Against Women
25 November marks the UN International Day for Elimination of Violence Against Women (IDEVAW). Eliminating violence against women, both in Australia and internationally, is a priority of the Australian Government and a key part of its foreign policy and overseas aid program. This day, followed by the 16 Days of Activism Against Gender-Based Violence Campaign, encourages the change in attitude and behaviours that lead to and perpetuate violence against women by mobilising people everywhere to bring about change. For a media release by the Minister for Foreign Mininster, the Hon Julie Bishop MP, please refer here.
Australia's Ambassador for Women and Girls works to ensure that the empowerment of women and girls is a central focus of Australia's diplomatic, development and defence concerns. Hear from Australia's Ambassador for Women and Girls about what we can do to stop violence against women here.
Remembrance Day 2016
On Remembrance Day, a minute's silence is held in many parts of the world to remember the servicemen and women who gave their lives in wartime and during conflicts and peacekeeping operations. Remembrance Day is held on 11 November, the date which commemorates the anniversary of the Armistice which ended the First World War in 1918.
The Australian Embassy in Vienna participated in Remembrance Day services in Vienna and at Commonwealth War Graves in Klagenfurt, southern Austria, and Solymár a short drive to the north of Budapest in Hungary.
For more information about Remembrance Day, please refer to https://www.awm.gov.au/commemoration/remembrance/tradition/