Building Bridges: Australian Gondwana Indigenous Children's Choir in Concert with Vienna Boys Choir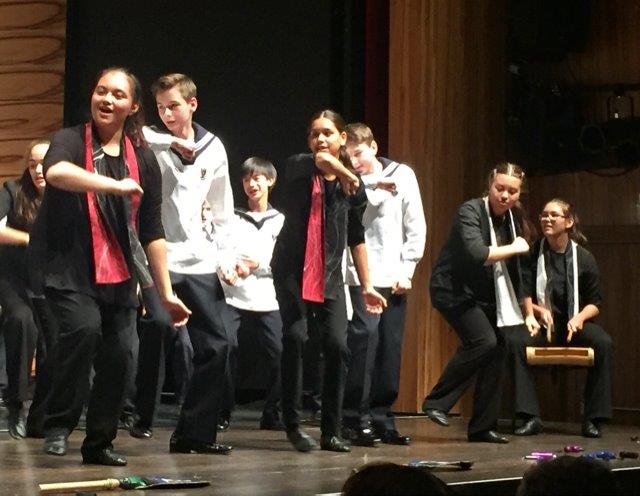 Copyright: Australian Embassy.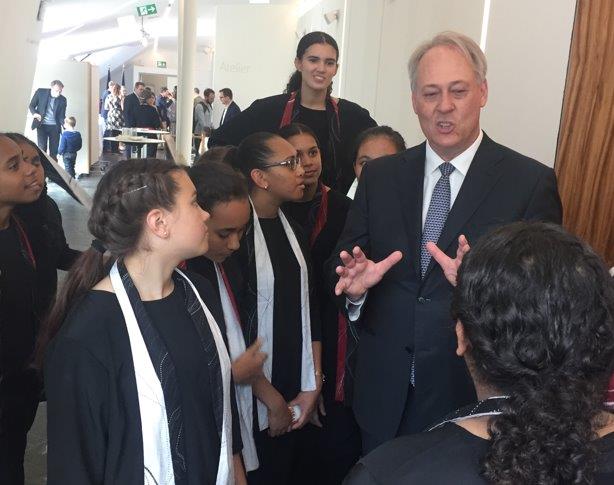 Ambassador Dr Brendon Hammer talking to GICC choristers. Copyright: Australian Embassy.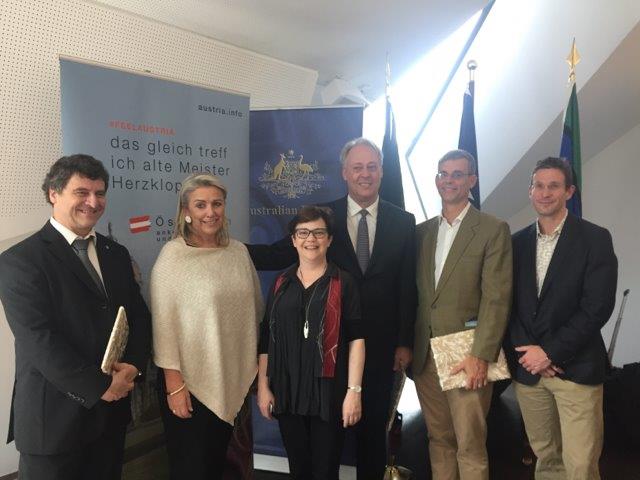 From left to right: Prof Gerald Wirth, Artistic Director Vienna Boys Choir; Astrid Mulholland-Licht, Market Manager, Austrian National Tourist Office Sydney; Lyn Williams OAM, Director GICC; Ambassador Dr Brendon Hammer; Lars Bespolka, Executive Director, Infrastructure, IFM Investors; Werner Kerschl, Investment Director Infrasturcture, IFM Investors. Copyright: Australian Embassy.
Bringing the music, story-telling, and tradition of one of the oldest continuous living cultures on earth to Europe, on 13 and 14 May the Australian Gondwana Indigenous Children's Choir (GICC) from Cairns, crowned its first European tour with joint concerts with the world-famous Austrian Vienna Boys Choir (VBC) in Vienna. For many of the young Australian performers it was their first time out of Australia.
Ambassador Brendon Hammer welcomed this unique cooperation as an example of successful cross-cultural cooperation and the strong and positive relationship between Australia and Austria.
Performing to standing ovations, the choirs brought together their rich, diverse cultural heritages; building bridges of friendship, culture and cooperation. Traditional Indigenous songs and compositions by Dan Walker, including excerpts from "Ngailu, Boy of the Stars", written specifically for the GICC, met the music of Austrian icons Mozart, Schubert and Strauss. A particular highlight of the concert was the joint performance of Torres Strait Islander songs with both choirs simultaneously on stage.
By rehearsing and performing together in Vienna and visiting the sights of the city, the young singers had a unique opportunity to learn of each other's cultures. They will have the opportunity to further that exchange later this year when the Vienna Boys Choir tours Australia in October with joint performances with the GICC at the Sydney Opera House and in Cairns.
Watch GICC explore Vienna and perform with VBC here.
This cooperation was supported by many partners, including the Austrian Tourism Office. The GICC's European tour also included performances with Carmina Slovenica in Maribor, Slovenia, and in Frankfurt, Germany.
Australia's Participation in the 26th Session of the Commission on Crime Prevention and Criminal Justice (CCPCJ)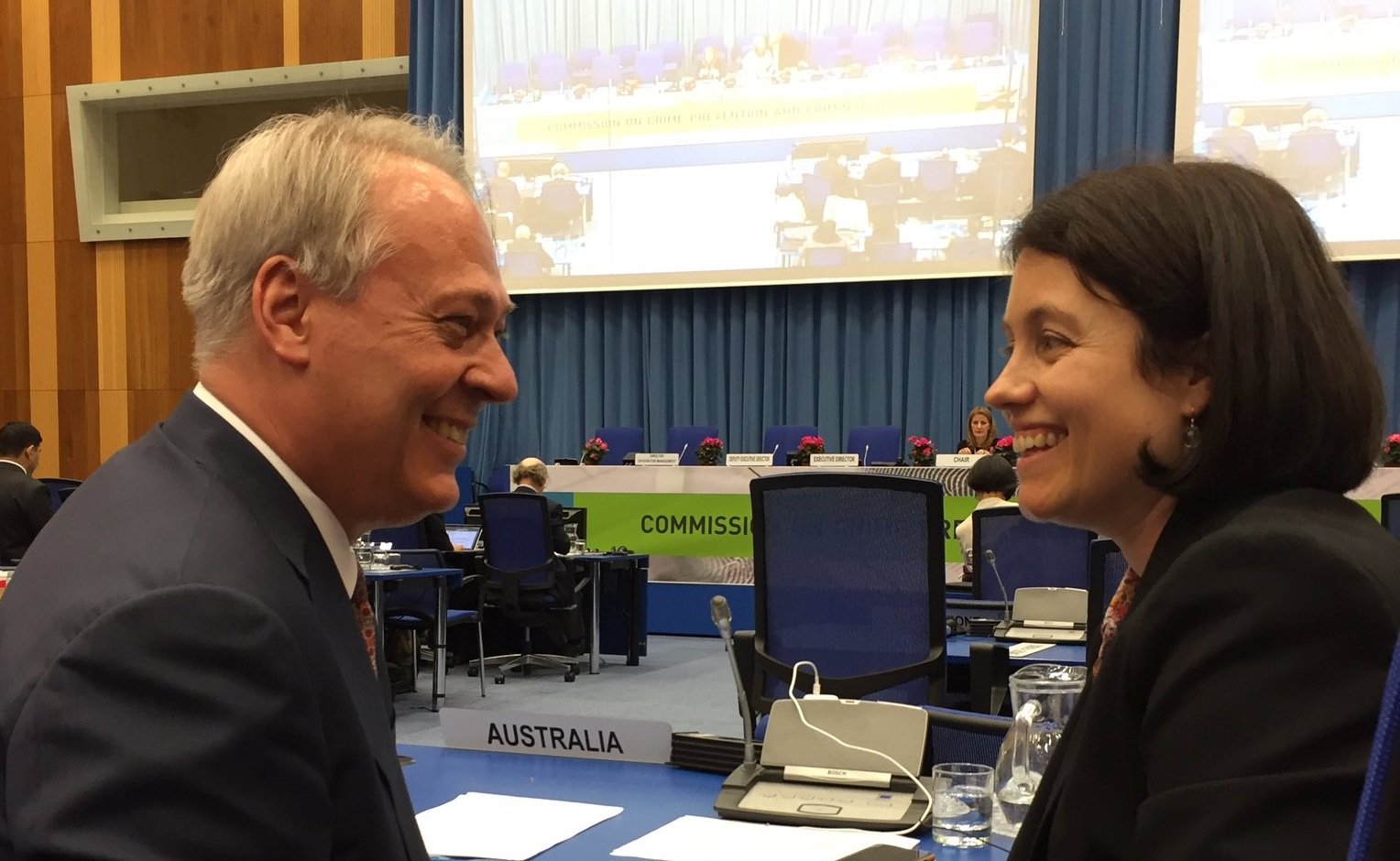 Photo caption: Ambassador HE Dr Brendon Hammer and Second Secretary, Kim Ralston at the 26th Session of the Commission on Crime Prevention and Criminal Justice (CCPCJ) on 23 May in Vienna, Austria. Copyright: Australian Embassy.
The CCPCJ is the principal UN policymaking body in crime prevention and criminal justice.
Gender Mainstreaming
Australia has made gender mainstreaming in criminal justice policies a focus area at this year's CCPCJ, by partnering with Mexico to introduce a resolution calling on member states to consider the specific needs of women and girls in developing and implementing criminal justice policies.
Australia's statement at the 26th session of the CCPCJ addressing Australian priorities can be found here.
MIKTA – Addressing Violence against Women
Australia also co-sponsored a side-event with MIKTA partners from Mexico, Indonesia, the Republic of Korea and Turkey on addressing violence against women.
Australia is seeking to challenge the ideas and behaviours that allow violence to occur by driving cultural change from the ground up and has launched an advertisement campaign called "Stop it at the Start." The campaign aims to help break the cycle of violence by encouraging adults to reflect on their attitudes and have conversations about respect with young people. A link to a campaign advertisement can be found here.
Ambassador HE Dr Brendon Hammer's statement on Australian initiatives to address violence against women can be found here.
UNODC – Australian Engagement to address Violence against Women
Australia is an active supporter of UNODC projects focussing on gender-based violence against women. We are sponsoring a workshop that will bring together representatives of the police, justice, health and social sectors from 11 countries in Asia and the Pacific, to enhance the knowledge and capacity of policymakers, identify good practices, key challenges and priorities for action at the country level.
Australia's Participation in the 2017 NPT Preparatory Committee meeting in Vienna
The Treaty on the Non-Proliferation of Nuclear Weapons (NPT) came into force in 1970 and was extended indefinitely in 1995. Australia ratified the NPT in 1973.
The NPT is the cornerstone of global efforts to prevent the spread of nuclear weapons, to work towards achieving nuclear disarmament and to promote the peaceful uses of nuclear technology and energy. The NPT is key to achieving global peace, stability and security.
Australia is participating actively in the first NPT Preparatory Committee meeting in Vienna (2-12 May 2017), which is the first of three formal meetings ahead of the mandated 5-yearly review of the operation of the NPT - the 2020 NPT Review Conference.
Read Australia's 2017 PrepCom meeting Statement to learn more about Australia's nuclear non-proliferation and disarmament priorities and our long-standing commitment to the elimination of Nuclear weapons.
Vienna Group of Ten
Australia is proud to Chair the Vienna Group of Ten, comprising Australia, Austria, Canada, Denmark, Finland, Hungary, Ireland, the Netherlands, New Zealand, Norway and Sweden.
The group, established in 1980, urges progress and due consideration of the NPT's so called Vienna issues - the peaceful uses of nuclear energy; nuclear safety, security and safeguards; export controls; nuclear testing and withdrawal from the NPT.
The Vienna Group of Ten's Preparatory Committee statement can be read here, and the Group's Working Paper can be viewed here.
Anzac Day 2017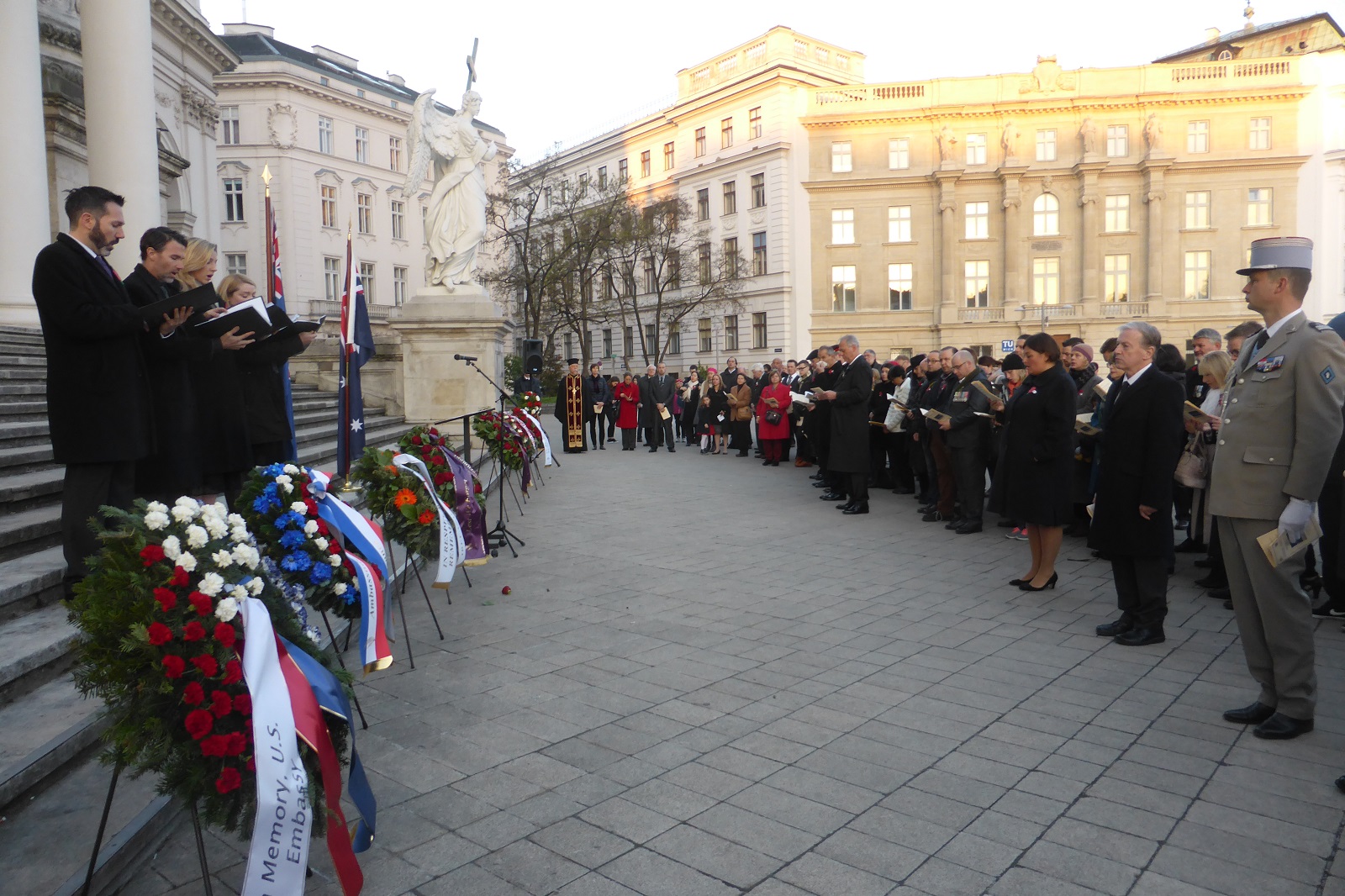 Photo caption: The New Zealand and Australian National Anthems led by the Anzac Day Quartet (left foreground from left) David Corcoran, Tharron McIvor, Anna Voshege, Anna-Louise Cole. Copyright: Australian Embassy.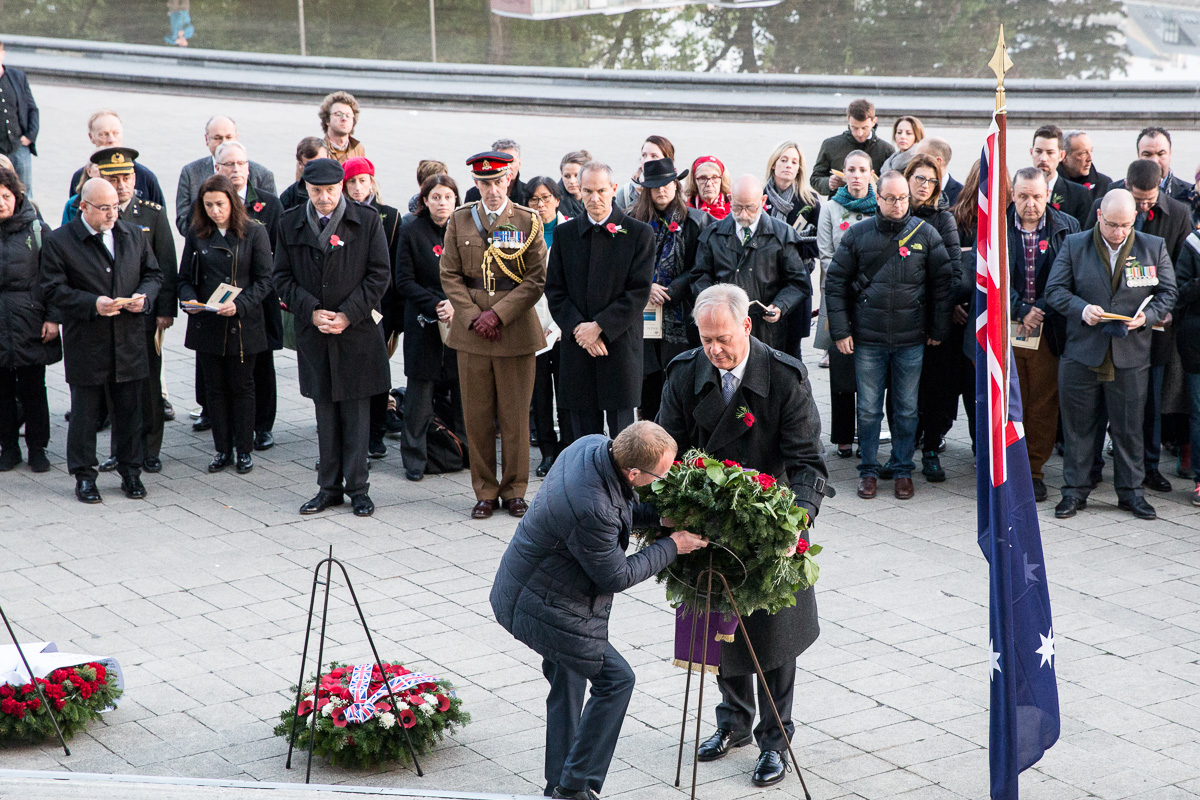 Photo caption: Laying of wreaths. Ambassador HE Dr Brendon Hammer lays a wreath on behalf of the Government and People of Australia. Copyright: Australian Embassy.
On 25 April, the Australian and New Zealand Embassies commemorated Anzac Day with a Dawn Service held on the steps of the historic Karlskirche church in the centre of Vienna. Representatives from the British, Irish, Canadian, French, Turkish and United States Embassies, and the diplomatic community, stood side-by-side with Australians and New Zealanders, and members of the public, including a Hungarian community group, to mark the occasion.
Countering the world drug problem: Australia's statement at the 60th Session of the Commission on Narcotic Drugs in Vienna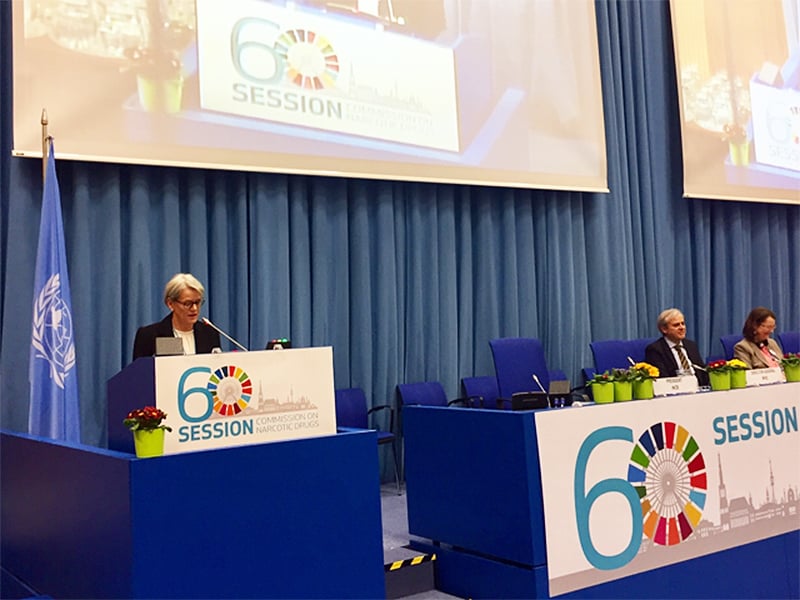 Photo caption: Dr Wendy Southern PSM, Deputy Secretary, National Program Delivery Group, Department of Health, delivering Australia's statement at the 60th Session of the Commission on Narcotic Drugs (CND) on 13 March in Vienna. Copyright: Australian Embassy.
Dr Southern said that a holistic and multifaceted approach is needed to address the world drug problem effectively. Law and enforcement approaches were vital to reducing supply, while health-based strategies aimed at reducing the uptake of illicit drugs and providing treatment for users were also critical. Australia, she said, is working closely with partners in the Asia-Pacific region to address shared illicit drug challenges, including as a key contributor to the Global Synthetics Monitoring: Analysis, Reporting and Trends Program (SMART), which aims to counter the synthetic drug problem through support to governments, including in the East and South-East Asia region.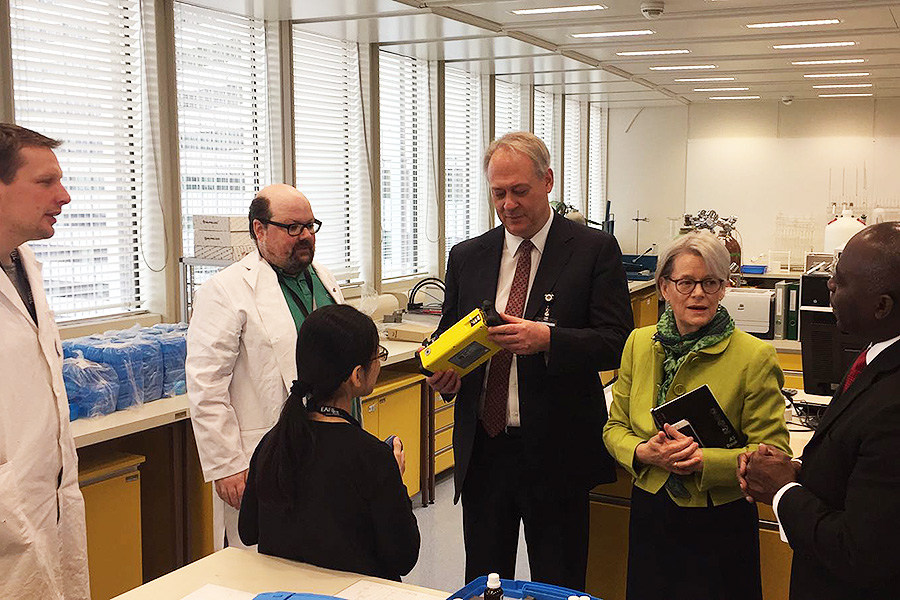 Photo caption: Australian Ambassador Dr Brendon Hammer (fourth from left), and Dr Wendy Southern PSM (second, right), visit the SMART lab, UNODC Vienna. Copyright: Australian Embassy.
Dr Southern also said Australia will continue to advocate for greater access to controlled medicines for those in need around the world and the protection of human rights in addressing the world drug problem. Australia would continue to advocate and pursue these platforms if re-elected to the Commission on Narcotic Drugs for the 2018-21 term.
Australia is an active member of the Commission on Narcotic Drugs (CND) and has been a top ten donor
(since 2005) to the United Nations Office on Drugs and Crime (UNODC). CND is responsible for supervising
the global application of international drug control treaties, which have at their heart countering the world
drug problem. Control of licit drugs for medical and scientific purposes is also a key focus of Australia's
engagement with CND, given we are a reliable and safe producer of over 50 per cent of the world's licit opiates.
International Women's Day 2017: Women in Multilateralism Event at the Australian Residence
The Australian government is committed to the empowerment of women and girls globally. In recognition of this and to mark International Women's Day 2017, on 1 March the Australian Embassy hosted a Women in Multilateralism event to discuss and consider practical initiatives to advance gender equality in multilateral policy-making. HE Ambassador Bente Angell-Hansen, Norwegian Permanent Mission, and Mary Alice Hayward, Deputy Director General and Head of Department of Management, International Atomic Energy Agency (IAEA), provided insights and engaged in discussion with participants on the far-reaching benefits that can derive from gender diversity at national, sectoral as well as organisational levels.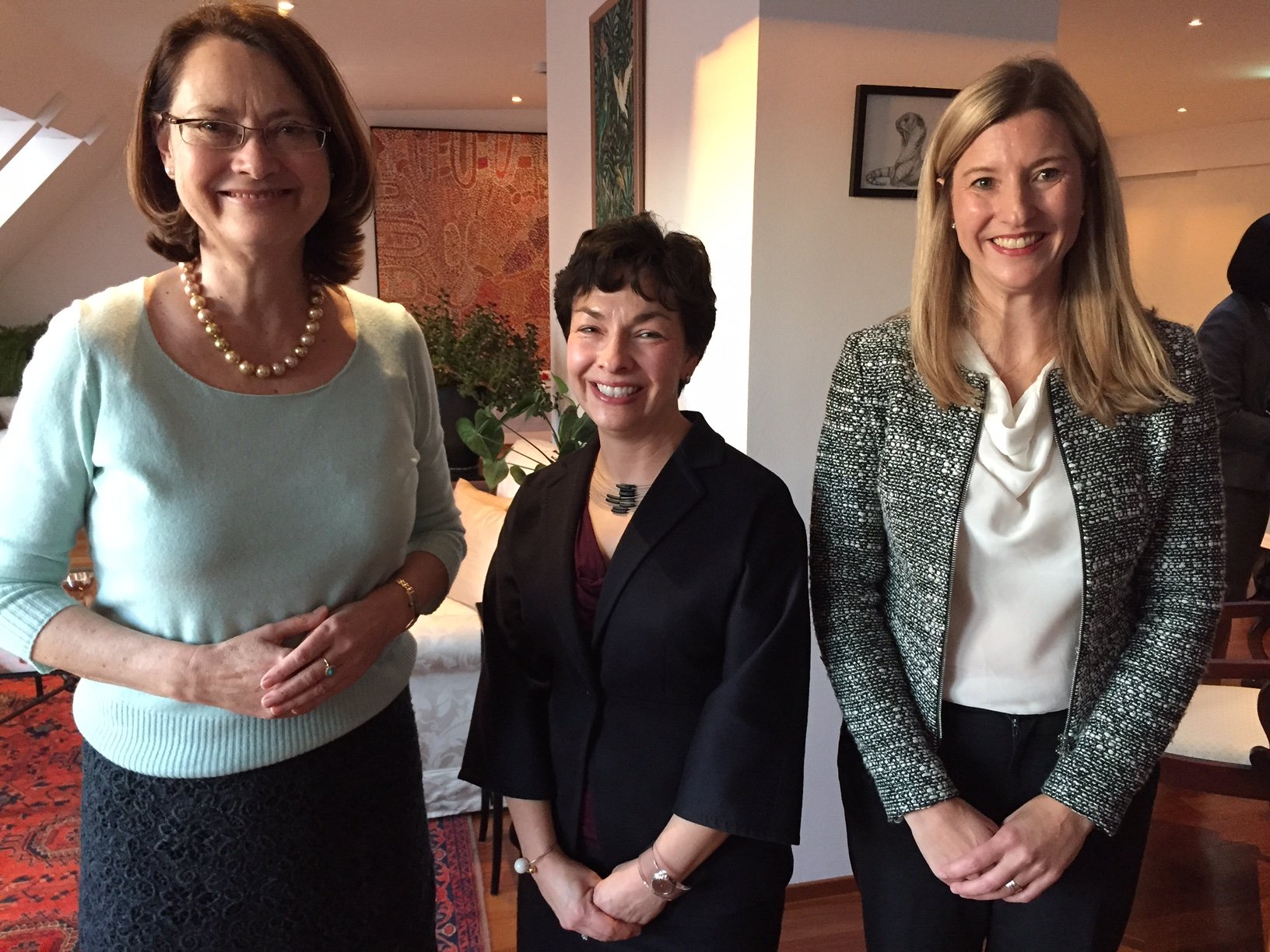 Photo caption (from left to right): Norwegian Ambassador HE Bente Angell-Hansen, IAEA Deputy Director General Mary Alice Hayward and Australian Deputy Head of Mission Alison Drury. Copyright: Australian Embassy.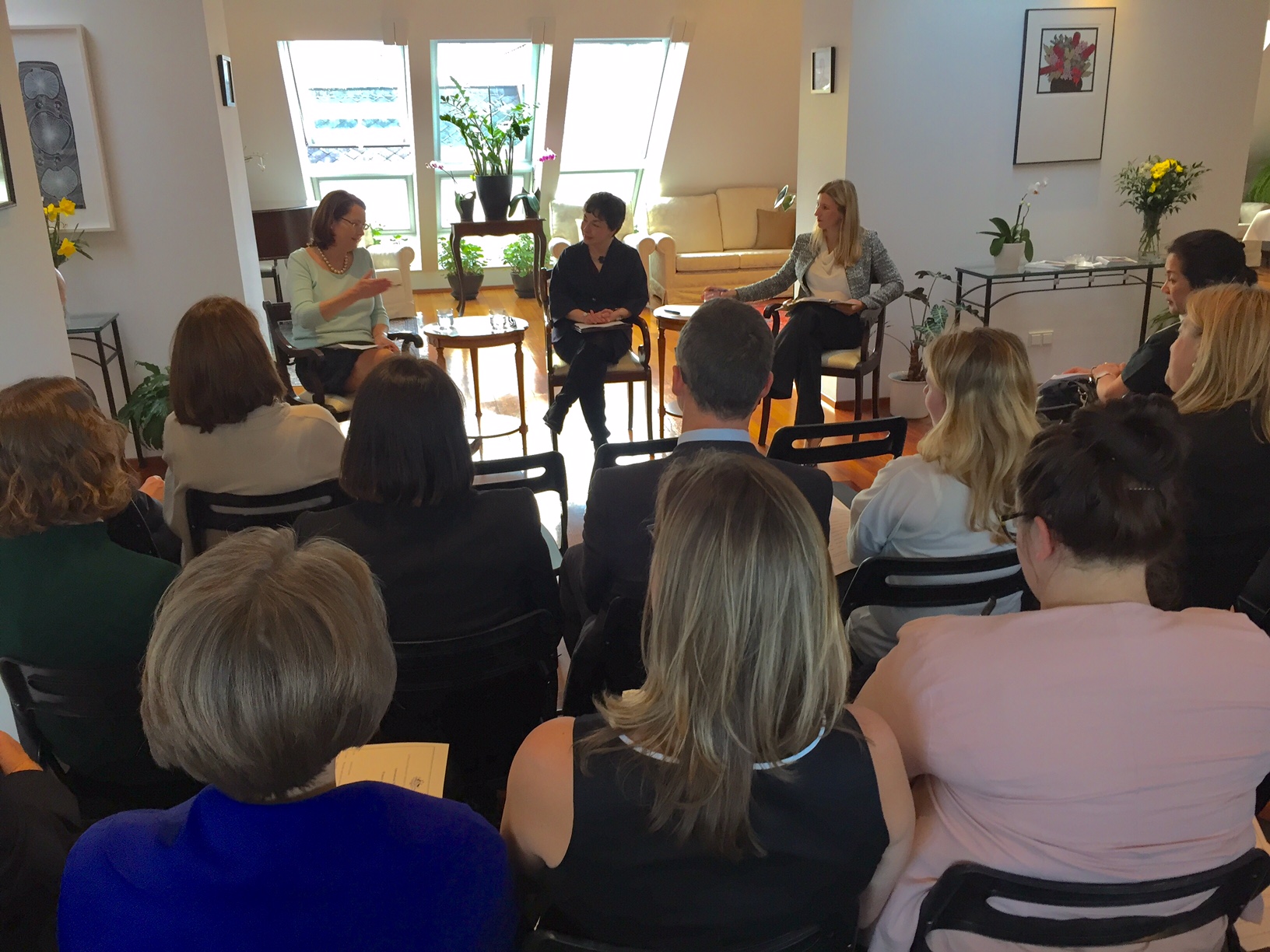 Photo caption: Panel discussion at the Australian Residence. Copyright: Australian Embassy.

The event provided an opportunity for attendees to discuss practical initiatives that could be taken forward within and across multilateral agencies in Vienna. Ways to draw women into STEM (science, technology, engineering and mathematics); creating career opportunities for women including through mentoring, networking, and sponsorship; the importance of role models and gender champions; and achieving a work-life balance were prominent themes. The importance of considering and reflecting gender in the drafting of resolutions, and facilitating and maintaining an on-going discourse and awareness of the gender agenda were also identified as key objectives.

To learn more about the Australian Government's commitment to the economic social and political empowerment of women globally, please refer to the publication Australia Advancing Women's Economic Empowerment through Aid, Trade and Economic Diplomacy.

Australia Supporting the IAEA's Peaceful Use of Nuclear Technology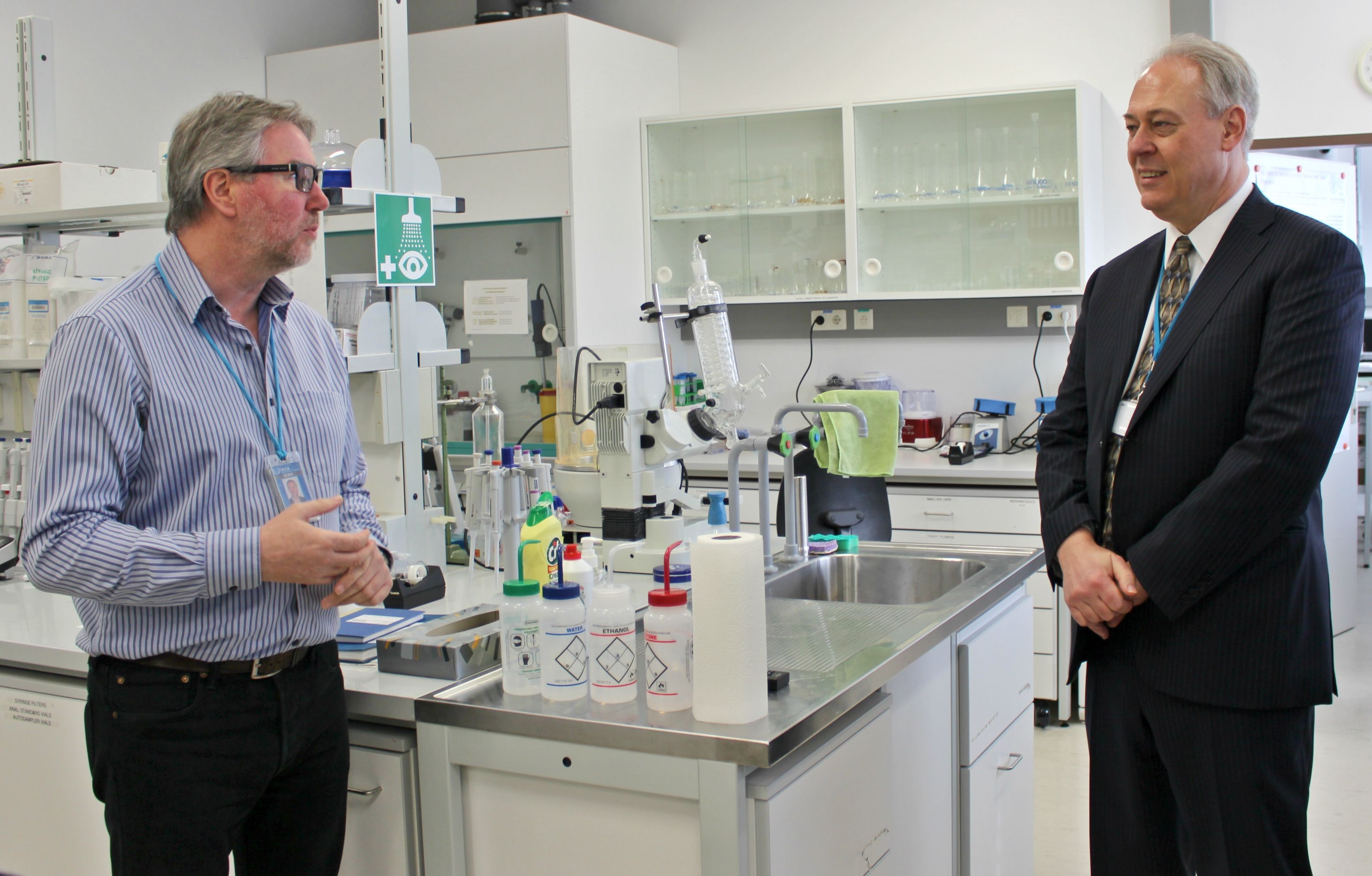 Photo caption: Ambassador Dr Brendon Hammer (right) talks to Dr Andrew Cannavan, Head of the IAEA's Nuclear Sciences and Applications Food and Environmental Protection Laboratory, Seibersdorf. Copyright: IAEA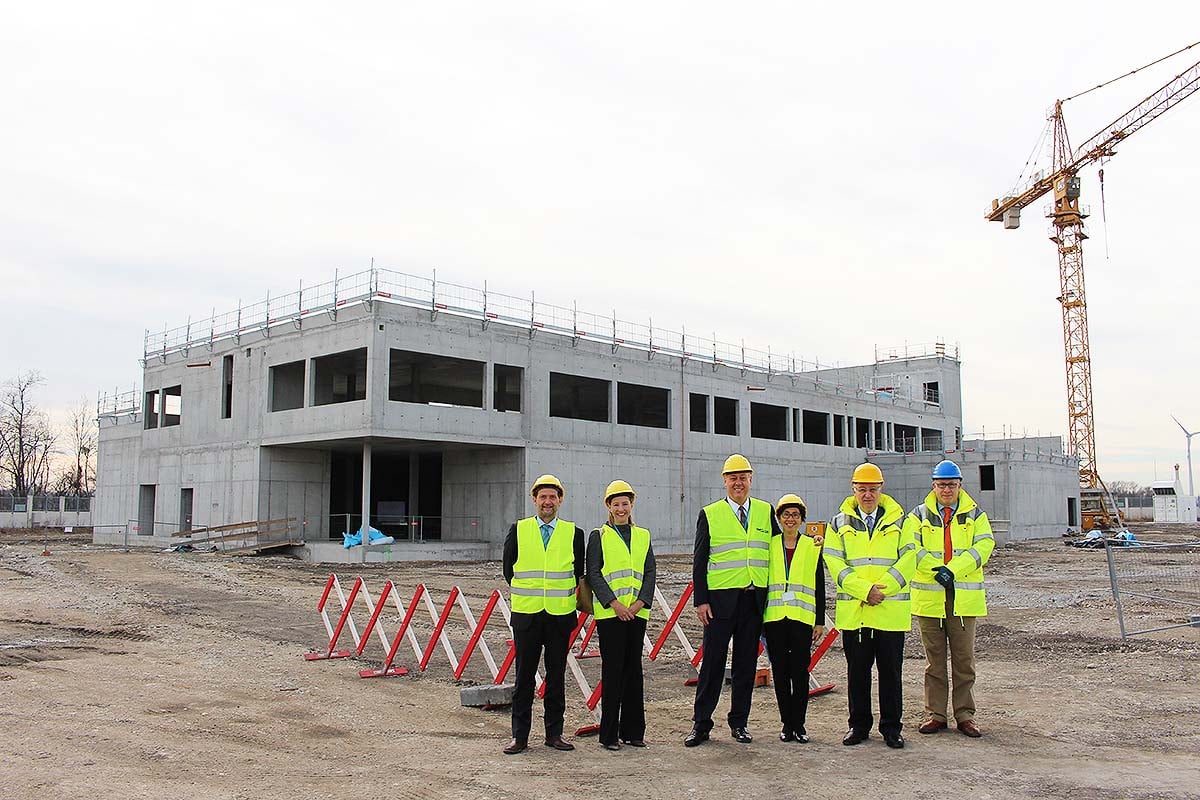 Photo caption: Inspecting construction works to upgrade the IAEA's nuclear application laboratories at Seibersdorf to which DFAT has pledged EUR 600,000. Copyright: IAEA
Nuclear technology is being used in a multitude of sophisticated ways and directly contributes to nine of the UN's 17 Sustainable Development goals – including in developing diagnostics and treatments for cancer and other diseases, and making breakthroughs in clean energy production. The International Atomic Energy Agency laboratories at Seibersdorf, Austria are using nuclear science to advance :
Human health by developing dosage standards for cancer treatments;
Animal health through control of transboundary animal disease and improved livestock productivity;
Plant breeding and genetics – to improve crop yields and the hardiness;
Food safety by tracing food origins and identifying contaminants;
Soil and water management to ensure sustainable and efficient use of water; and
Pest control – including through the sterilisation of insects.
In recognition of the important contribution the IAEA is making through the peaceful application of nuclear technology, in 2015 the Australian Department of Foreign Affairs and Trade pledged EUR 600,000 to upgrade the nuclear applications laboratories at Seibersdorf. Building works, which will realise the construction of two new laboratories, are scheduled to be completed in 2018.

On 28 February 2017 Australian Ambassador Dr Brendon Hammer visited the Seibersdorf laboratories to inspect the ReNuAL construction and learn about the important work being carried out by IAEA scientists.

Australia is proud collaborative centre partner of the IAEA through the Australian Nuclear Science and Technology Organisation (ANSTO). Find out more about ANSTO's nuclear science and technology activities which include its research, management of landmark infrastructure (including the OPAL research reactor) and its substantial and increasing contribution to the global supply of medical radioisotopes here.

Zero Project: Australia's JobAccess Service recognised with a 2017 Innovative Policy Award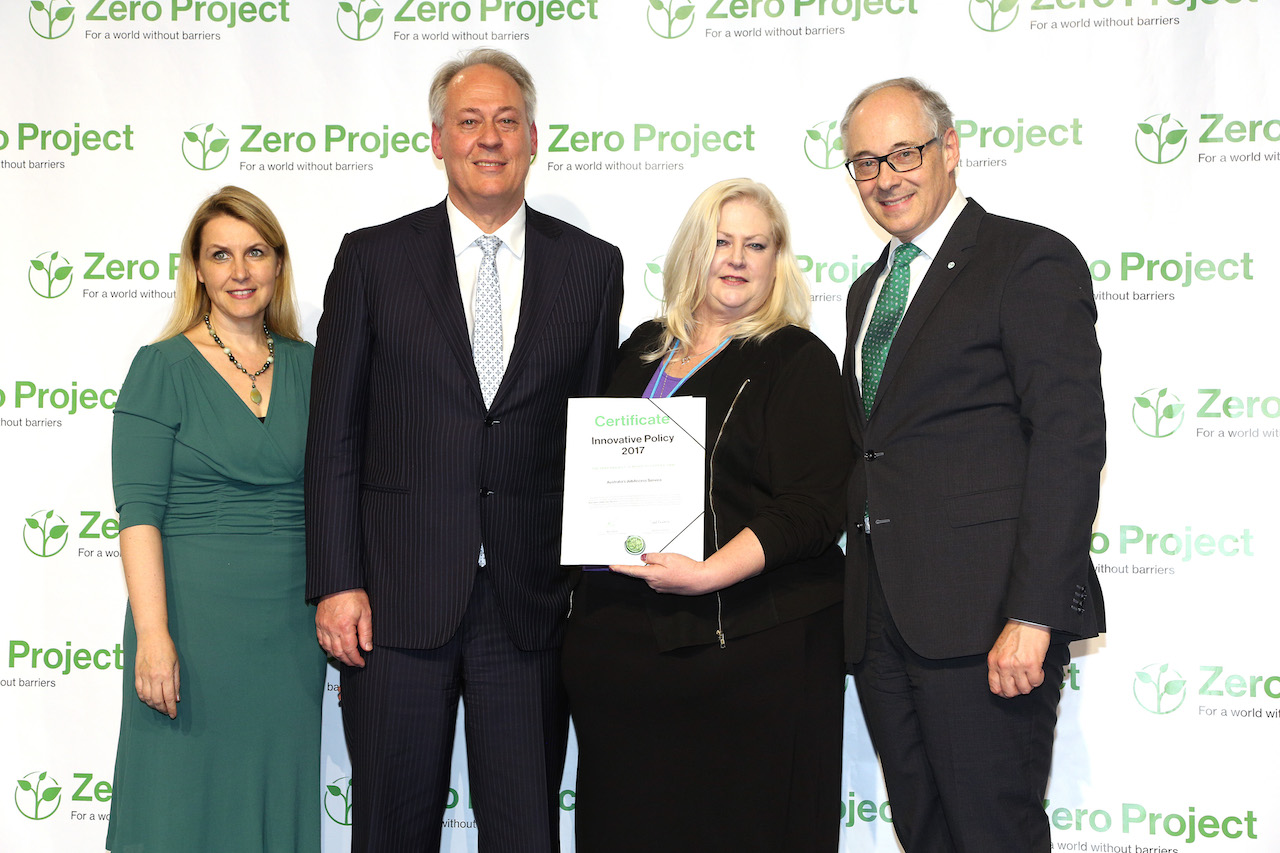 Photo caption (l-r): Ms Alexandra Wandel, Director, World Future Council; Ambassador Dr Brendon Hammer; Ms Helen Green, Disability Employment Services Branch, Australian Department of Social Services; Mr Martin Essl, Founder of the Zero Project. Copyright: Zero Project
On 23 February, Ambassador Dr Brendon Hammer and Ms Helen Green proudly accepted an Innovative Policy award on behalf of Australia's JobAccess Service at the Zero Project Conference in Vienna. The award recognised JobAccess's contribution to advancing employment of persons with disabilities. JobAccess supports employers as well as people with disability through services including workplace adjustment, vocational training, recruitment strategies for sustainable employment, flexible workplace practices, workplace training, workplace assessment and work health and safety. JobAccess also educates employers on the benefits of employing people with disability and the government supports available.
The Zero Project is an initiative of the Austrian Essl Foundation which supports the implementation of the United Nations Convention on the Rights of Persons with Disabilities and focuses on the rights of persons with disabilities globally. Its annual conference allows organisations responsible for the development of innovative policies and practices to present solutions to peers, stakeholders, government ministers and other key influencers.
The 2017 Zero Project Conference focused on disability-inclusive employment, work, and vocational education and training. The award was handed over by Martin Essl, Founder of the Zero Project, and Jakob von Uexkull, Partner of the Zero Project and Founder of the World Future Council, in the United Nations Office in Vienna.
The Zero Project Conference was attended by more than 500 experts from more than 70 countries.